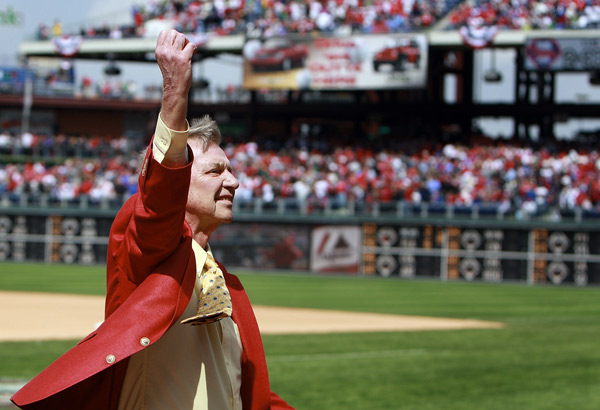 I was in Washington for the Nationals Opening Day this afternoon and everyone in attendance heard about the untimely passing of Harry Kalas, longtime announcer for the Philadelphia Phillies and NFL Films. Well, I just got home, listened to some memories of him on WFED — the flagship radio station of the Nationals — and I was even more shocked to learn that he died in the broadcast booth at Nationals Park literally a few hours before game time.
Fans of his in Philadelphia and around the world have lost a voice that can surely never be replaced. Although I heard his voice from time when it came to baseball, his beautiful voice made NFL Films broadcasts — which I love to watch — so interesting and enthralling.
He was no doubt a legend in the broadcast industry and whether you're a Philadelphia fan or not, his body of work is incredible. Rest in Peace, Harry and to his family along with his legion of fans, I offer my condolences.
It goes without saying I was stunned to hear about Kalas' death, and he was on my mind throughout today. It's been a sad week for the game, and it just shows you that life can be so fleeting.